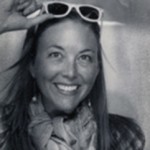 Alissa Walker took some time to chat with AIGA Colorado about the GOOD Ideas For Cities Initiative, why she writes about design, and her favorite sub­ject of all: gelato!
Please tell us a bit about the GOOD Ideas For Cities Initiative and how you got involved. How could this ini­tia­tive be imple­mented in Denver?
AW: Four years ago (this week, in fact!) I was talk­ing to a graphic designer who had just spent months vol­un­teer­ing to help get Obama elected. He was excited to keep this civic-minded momen­tum going by work­ing on issues that were impor­tant to L.A., but he wasn't sure where to start. At the same time, I was writ­ing a lot of arti­cles about local pol­i­tics for GOOD and spend­ing a lot of time in City Hall, hear­ing dif­fer­ent city lead­ers talk about var­i­ous ini­tia­tives that they wanted to launch, but didn't have enough time or fund­ing to explore. I real­ized that GOOD was in a unique posi­tion because it had this incred­i­ble engaged com­mu­nity of cre­atives, but also had insight into the big urban issues the city was fac­ing. So with GOOD's cre­ative direc­tor Casey Caplowe, we planned an event where we assigned design­ers to L.A. chal­lenges as cho­sen by urban lead­ers and had them present their solu­tions to a live audi­ence. It was so suc­cess­ful that other cities started ask­ing us to host events, and last year we part­nered with the urban think tank CEOs for Cities and got a grant from ArtPlace to take the pro­gram to six more cities across the coun­try. We now have over 100 incred­i­ble solu­tions to urban issues posted on our site: http://​www​.good​.is/​i​d​e​a​s​f​o​r​c​i​t​ies and about 25% of them are imple­mented or mov­ing towards imple­men­ta­tion. We are devel­op­ing a toolkit that will allow any city to host their own event, and I would be thrilled to work with Denver to orga­nize an event here for 2013.
What is it about design that inspires you to write about it?
AW: I see design as a tool for solv­ing prob­lems. There are the obvi­ous phys­i­cal prob­lems being solved by design, like design­ing safer streets or more effi­cient houses. But graphic design­ers in par­tic­u­lar are really good at cre­at­ing beau­ti­ful, vibrant, acces­si­ble ways for peo­ple to under­stand issues and take action, and that's incred­i­bly pow­er­ful to me. Great design is about hav­ing a point of view, and the best design projects not only stop you in your tracks visu­ally, they inspire you to do some­thing about what you've just seen or experienced.
What aspects of design do you like to write about the most?
AW: It's def­i­nitely shifted since I started writ­ing about design. At first, since I came from the world of adver­tis­ing, I was really inter­ested in the then-emerging indus­tries of motion graph­ics and inter­ac­tive design. As I got more con­fi­dent in my writ­ing I began cov­er­ing indus­trial design and archi­tec­ture, with a big focus on sus­tain­abil­ity. And now, since I've become immersed in urban design through my transit-related activ­i­ties, I've become more and more focused on trans­porta­tion design, bik­ing infra­struc­ture, and pedes­trian advo­cacy. I'm super-nerdy about a whole bunch of really wonky issues around redesign­ing our streets and sidewalks!
Have you ever owned a car? Does walk­ing and tak­ing pub­lic trans­porta­tion make you feel more con­nected to the city?
AW: Up until six years ago, I'd owned a car pretty much all of my adult life (with the excep­tion of my 3.5 years at CU). It's funny, I never really thought it was an option *not* to have a car in any of the cities I lived in. And even though I loved to walk for exer­cise, I never con­sid­ered that a method of trans­porta­tion. I decided to stop dri­ving just to see if I could do it because every­one in L.A. said it was so impos­si­ble — it was not really for any envi­ron­men­tal rea­sons. But yes, what I real­ized, quickly, is that walk­ing and bik­ing and rid­ing tran­sit con­nects me to L.A. in a com­pletely dif­fer­ent way. I've become more engaged in my city and I feel more invested in its future. Plus not dri­ving makes going places an adven­ture, and I look for­ward to tak­ing these lit­tle vaca­tions in the mid­dle of my day. It's fun!
What advice do you have for up-and-comers out of school who strug­gle to land that first design job?
AW: I have two pieces of advice that I find go against the advice of many teach­ers and par­ents. First of all, don't move to a city because of a job. Decide where you want to live because you LOVE IT THERE, then worry about mak­ing a liv­ing once you've fig­ured out what your life there will look like. I've seen too many of my friends get stuck in places they don't want to live just for a job. Not worth it. Second, you don't need to land "a job" — you can totally be free­lance right out of school, and you might be more attrac­tive to an employer if you're more finan­cially flex­i­ble. The biggest issue for my gen­er­a­tion com­ing out of school was that we needed a job so we could get health insur­ance. But now since you're cov­ered by your par­ents until you're 26, all you need to worry about is get­ting lots of great expe­ri­ence under your belt so when you hit 26 you'll be estab­lished and secure enough to pay for your own health­care. And with the abil­ity to set up a web­site, port­fo­lio site, blog, social media accounts, etc. you're able to brand your­self and mar­ket your work to poten­tial employ­ers — even make work that you can sell directly to your audi­ence. Set up your own com­pany as soon as you get out of school; it's really easy and it's fun!
What's your favorite fla­vor of gelato? Where can we find the best gelato around town?
AW: My favorite tra­di­tional fla­vors of gelato are strac­ciatella, pis­ta­chio and olive oil (sounds weird but is so deli­cious) but I really love when peo­ple get super cre­ative with ice cream fla­vors. In Denver, I've always been a fan of Liks, but I'd love to give a shout out to another Colorado insti­tu­tion: If you find your­self in Crested Butte any­time soon, try Third Bowl. They catered our wed­ding this sum­mer and made us three incred­i­ble fla­vors using local ingre­di­ents: Cherry Chocolate Chile, Peach Coconut, and Sweet Corn and Lime (amazing!).
You will not want to miss Alissa's pre­sen­ta­tion this Thursday at the Denver Art Museum! It's sure to be excit­ing, enter­tain­ing and insight­ful! Register here.