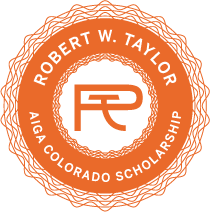 In 2008, AIGA CO Scholarship was cre­ated to help young design­ers who are enrolled in an accred­ited col­lege design pro­gram by pro­vid­ing a $1,500 schol­ar­ship, the newest ver­sion of Adobe Creative Suite. Today AIGA CO offers a $1500 and $500 schol­ar­ship and a one year sub­scrip­tion to Adobe Creative Cloud. The win­ners of the schol­ar­ship demon­strate lead­er­ship within the design com­mu­nity as well as out­stand­ing work in the field of design.
AIGA announced in 2010 the renam­ing of the schol­ar­ship to the Robert Taylor AIGA CO Scholarship in honor of the late Robert Taylor, whose designs, lead­er­ship and com­mit­ment to the design com­mu­nity fueled inspi­ra­tion and advanc­ing design in Denver. Mr. Taylor was an AIGA Colorado Fellow Award Recipient, and served on the Board of Directors for AIGA and ADCD, and served on the Advisory Board for AIGA Colorado.
Our past win­ners include: Kalene Thompson (2009), Mia Huang (2010), Stephanie Gibson (2011) and our most recent recip­i­ent, Samantha Kogle (2012), Gustavo Esquinca (2013). These young design­ers have all demon­strated their inno­va­tion, cre­ativ­ity and pas­sion and lead­er­ship in design as a practice.
If you want more infor­ma­tion regard­ing the Robert Taylor AIGA CO Scholarship, please click on the con­tact link above to send a mes­sage to the Awards Chair, AIGA Colorado at cindy.sewick@aigacolorado.org.