The story of the 2012 Snowboard Design Competition held by the AIGA students of The Art Institute of Colorado
By David Finkelstein, Student at The Art Institute of Colorado, Foundry 301 President
At a meeting of our school's AIGA chapter (newly named Foundry 301) to discuss Winter Quarter at the Art Institute of Colorado, student Steve Parisi voiced a concern:  no Rail Jam this year, with its snow-filled terrain park along our 12th Street border, no student-designed snowboards being auctioned at Rail Jam's closing event. He suggested our chapter "fill the gap" and hold our own contest.
The 2012 Snowboard Design Competition was born.  Our theme was "supporting charity through design in Denver,"  with the proceeds from the event going to the Denver Art Society (www.denverartsociety.org) and our chapter. Students would submit snowboard designs, and winning designs would be printed on snowboards to be auctioned off at a reception kicking off a week of fun events.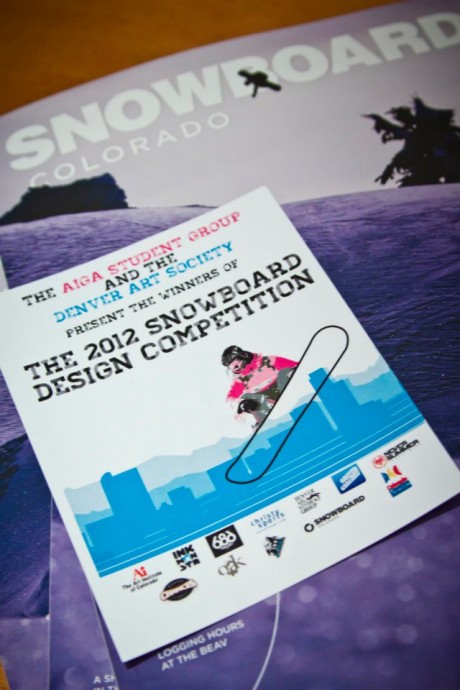 Every aspect of this event was a fantastic learning experience for everyone involved; artist, organizers, and our AIGA group as a whole.  With student-run events, ideas can be plentiful, but get-it-done actions scarce.  That was certainly true in our early stages.  The sheer volume of work was overwhelming and not apparent to us at the beginning.  Poster's needed to be made to call for student designs.  Sponsors, snowboards, judges and venues needed to be arranged…who was to do all of this work?  We came together and worked well as a unit, and people stepped into roles that best suited their strengths.  Little by little the event seemed less like an insurmountable mountain than a conquerable mole hill.
Students from the Art Institute submitted over 40 designs which were judged by a celebrity panel that included designers from the snowboard industry, instructors from the school and professional snowboarders.  The top 15 designs were printed on snowboards, courtesy of Ink Monster and Christy Sports.  Oak Tavern hosted the kick-off reception that began the silent auction.  It was fantastic!  Around 80 students, artists, designers and members of the community enjoyed a fun night of food, drinks and raffle prizes.  All of which would not have been possible had it not been for our sponsors:
Colorado Creative Industries
Oak Tavern
Ink Monster
Snowboard Colorado
686
Never Summer
Christy Sports
Denver Pavilions
L2R Snowboards
The Art Institute of Colorado
The top 15 boards were displayed for a week at a store front donated by the Denver Pavilion on the 16th Street Mall.  At the store, run by student volunteers, visitors could view the winning entries and place a bit to win their favorites.  At the closing reception, adults and kids designed mini-snowboards.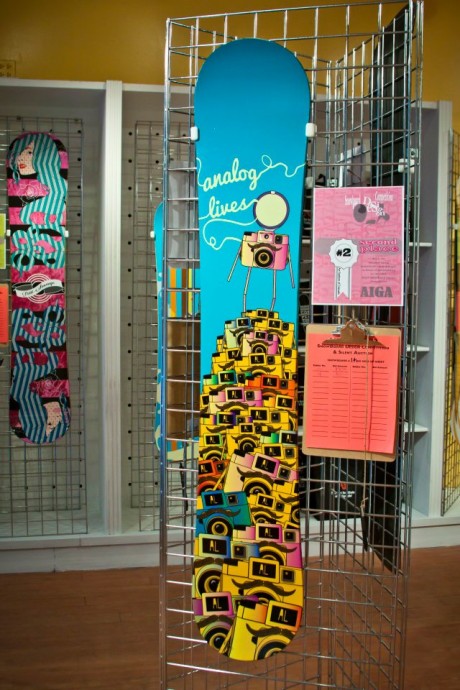 As a result of this competition we were able to raise around a thousand dollars.  When it was all said and done, the AIGA students saw what an impact design could have on the community; how it could bring students, strangers, and snowboards together in a unique way.  This event not only benefitted The Denver Art Society, but our AIGA chapter as well.
Our new goal, under the name Foundry 301, is to take on a project every quarter that improves our skills as a design team by improving the community around us.  With our  new motto, and a newfound knowledge base for putting on an event like this, Foundry 301 hopes to further have an impact on our community through design…and a little elbow grease!