The Robert W. Taylor Scholarship was created to help young designers who are enrolled in an accred­ited col­lege design pro­gram by pro­vid­ing a $1,500 schol­ar­ship and a one-year subscription to Adobe Creative Cloud. This year we were so impressed with all of the inspiring submissions from students with passion and a creative vision that will no doubt bring them great success in their careers.
AIGA CO chose to support two very talented individuals who are the cream of the crop. They have the ability to cause change and will make a great impact on our design community. Here is an up close and personal look at this year's winners:
1st place winner: Seth Haller
University of Northern Colorado
Visual Communication Design Major
"It was helpful for me to inquire about any opportunity to practice my craft, to not trust current trends, to know my history, and to understand the current design needs of individuals, communities, and, more broadly, society."
2nd place: Meg Duffy
Metropolitan State University of Denver
Communication Design Major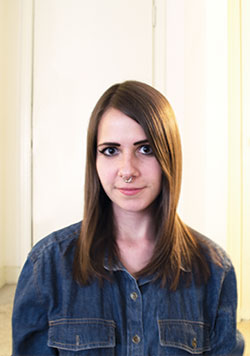 "I believe that through developing strong interpersonal skills along with a business-minded consciousness, one can greatly improve their success as a designer. Understanding business principles is vitally important to running a successful freelance business or even working and excelling in a company setting."
Congratulations Seth and Meg! We look forward to great things from you.