Colorado Creatives Series
In support of #AIGAatHome, we have launched the Colorado Creatives Series, an opportunity to celebrate and showcase local creatives in our area. Our Colorado Creatives will share a little about their creative process, some of their most worthwhile investments, current reading lists and more. Enjoy!
Name
Peter Miles Bergman
Pronouns
He, His, Him
Where can we find you?
What are you currently working on
I just finished up 31st grade (I'm an Associate Professor of Art and the Communication Design Program Coordinator at MSU Denver). That frees up some time for two other ongoing projects. 
The first is wrapping up a series of books titled PaCT that I've been working on (and mostly off) for 24 years that's comprised of a zine, a 266 page photo-animated flip book, and a 258 page manuscript. The zine and the manuscript are totally DIY, written, designed, and printed in house in an edition of 303 at is PRESS – the studio I share with my wife Heather Link-Bergman (an artist, printmaker, and Account Director at SE2). I had/have a solo show lined up at Dateline Gallery to release this project. It is/was scheduled for July but we're in a wait-and-see mode in regard to when the gallery reopens and pending the rescheduling of shows that were postponed. 
The other, a collaboration with Heather, is an installation for the fall Citizenship exhibition at MCA Denver, curated by Zoe Larkins, which extrapolates on an ongoing project of putting leftist, punk, feminist, and queer zines in little free libraries in affluent parts of town and some corresponding "market research" (aka surveillance and data collection). is PRESS is also co-publishing and designing the catalog for the exhibit. 
How has a failure, or apparent failure, set you up for later success? Do you have a "favorite failure" of yours?
This relates to the PaCT project. In 1996, when I was 23, fresh out of college and full of hubris, I attempted to thru-hike the 2,700 mile Pacific Crest Trail with a childhood friend Dylan Kuhn. Despite being young and in peak physical condition, walking 20-25 miles a day for 1,700 miles – the length of California through conditions as varied as the Mojave dessert and 100 miles of snowpack over a dozen high passes in the Sierra Nevada – just broke us. It was a total psychological shock for me to meet my physical limit, and come up short, through something as simple as walking. It was, in a way, my first true conception of my own mortality. 
Dylan and I made a pact to return to the spot we abandoned our attempt when we were twice as old to finish the walk. Last fall, at 46, we hiked 960 miles across Oregon and Washington through the Cascades – the last 400 miles in freezing rain and snow. Both of these longs walks have really taught me how to grind it out, how to persevere, how to tolerate discomfort and pain, and that with just a little bit of planning, a lot of perseverance, and by playing the long game, you can cover a lot of ground by taking simple steps.
What is an unusual habit or an absurd thing that you love?
It's not like I love it or anything, in fact it's not even something I seek out. People just make contributions, often unsolicited; but, over the years I've amassed an impressive collection of human hair… At Heather and I's wedding Dylan culminated his best man speech by cutting off his 2 ft. braid and presenting it to us as a gift. On this recent 960 mile walk I wore that braid every day like a tie around my neck as a talisman of our bond – and to ward off the norms…  
What is one piece of advice you can offer to other designers right now?
Creativity is like water, it finds a way around or through barriers – so if you're unfocused or lost in your typical practice just let it flow intuitively and find it's own way forward. It also takes the shape of whatever vessel you choose to contain it in. So, once you are ready, let this time and its limitations shape your practice so that your work is relevant to the experience of this unique moment in human history. 
Illustration Credit: Johnny Sampson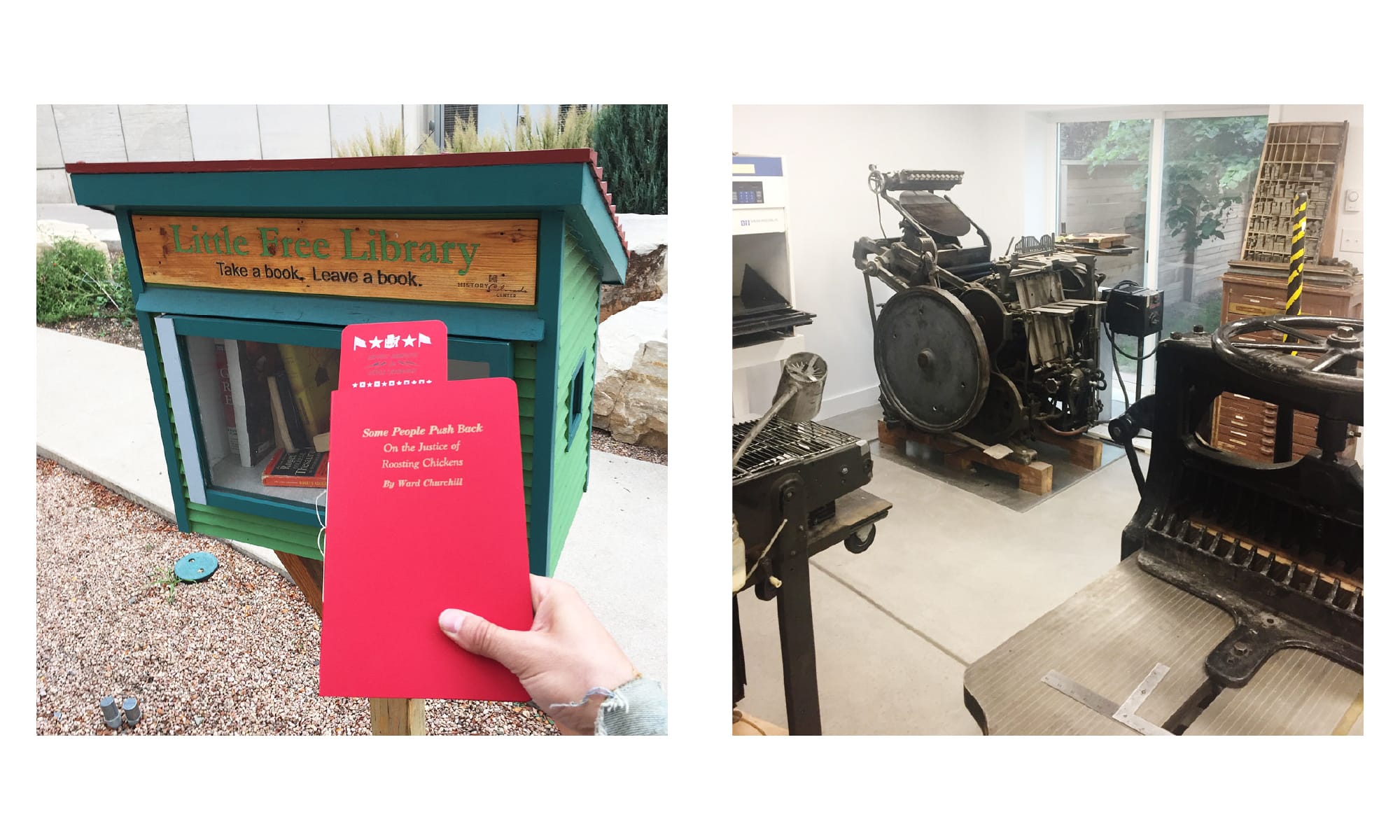 Left: Placing a reprint zine of the infamous Ward Churchill essay in the Little Free Library at the Colorado History Museum Right: The press room of is PRESS with a Chandler and Price Craftsmen 10×15 letterpress and little peek-a-boos of an AB Dick 360, and a Chandler and Price guillotine cutter.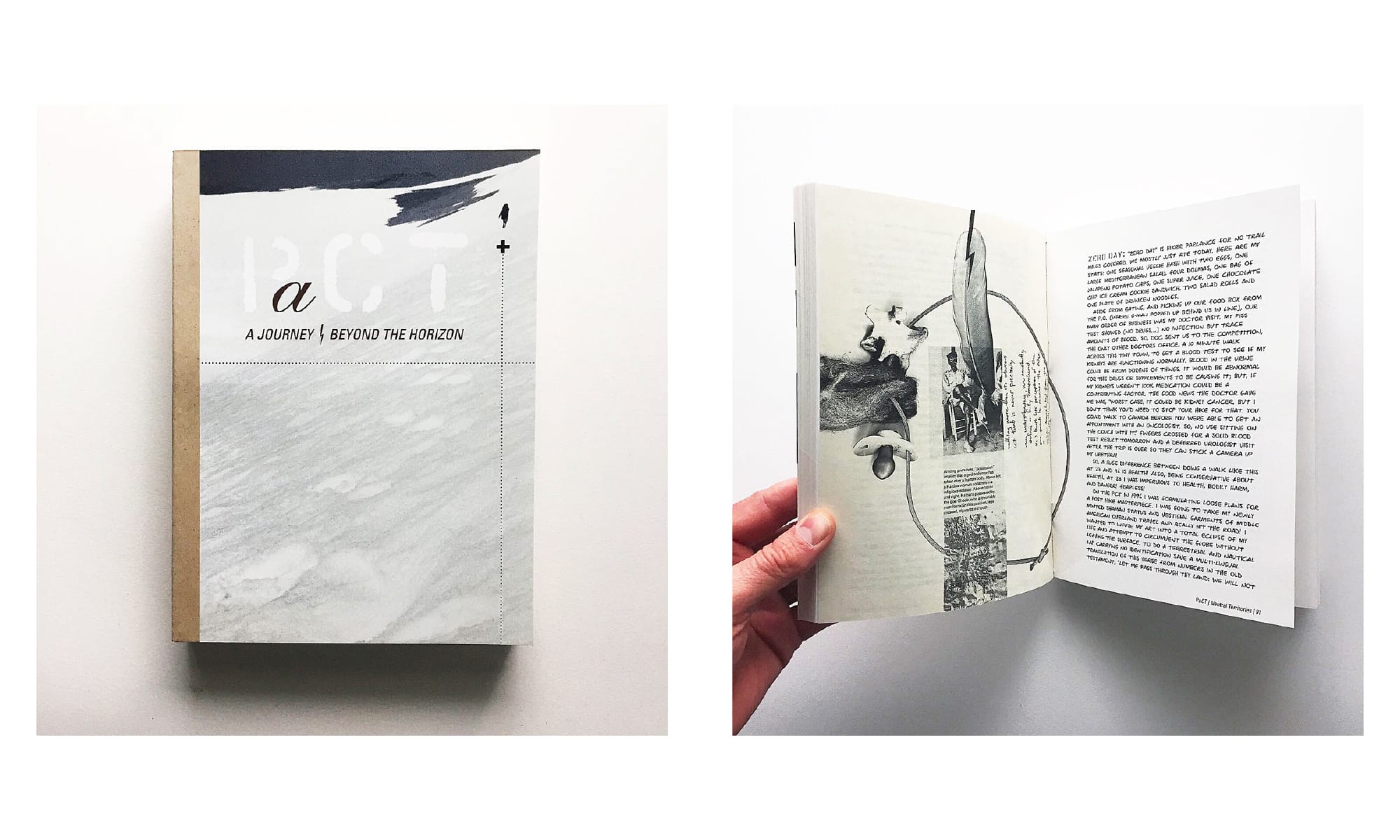 1-off artist's proof of a forthcoming manuscript about walking the 2,700 mile Pacific Crest Trail in two stints separated by 23 years.