I have to admit it: I'm not a joiner
I made it through one short year of Brownies, just enough time to get a few of those cool pins on my sash and wear the beanie with non-committal pride. In col­lege, I passed on soror­ity life and skipped the dorms. Today, I love league ten­nis because I can play an indi­vid­ual match to con­tribute to the team's win or loss. For bet­ter or for worse, I own my score. And I get to wear a cute skirt.
So how is it that this club dodger has been a mem­ber of AIGA Colorado since 1994? I'm a thinker and a designer: Party of one, but con­nected to many. Designers need to think a lit­tle side­ways; it's what makes us valu­able. The much-aligned "box" doesn't enter our pic­ture. It's hang­ing out with "par­a­digm shifts" and "push back" at a chain restau­rant sip­ping Mai Tais. We don't draw straight lines or color out­side of them; we doo­dle… and think… and sup­pose. And we pre­fer cir­cles any­way. We ques­tion all things and turn con­ven­tional ideas on their heads.
Which is pre­cisely what AIGA National has done, and this is why I'm back on the board.
When I was the AIGA CO Communications Director in the mid 90s, National was king of the court. It seemed to me at the time that this author­ity fig­ure (to be ques­tioned) was tak­ing and not giv­ing a whole lot in return. But that started to change with the lead­er­ship of Ric Grefé.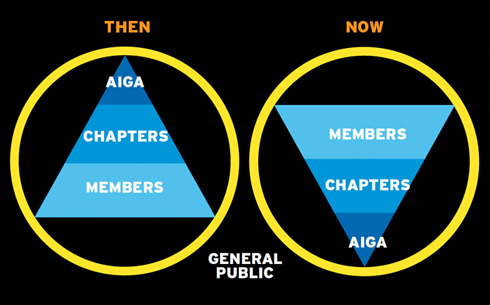 All of a sud­den, we got a design annual and we got advo­cacy. We got a salary sur­vey to help us gain proper com­pen­sa­tion, very impor­tant in a smaller mar­ket. Flawed vot­ing bal­lots were being redesigned … by design­ers, of all peo­ple! Designers were gain­ing a place at the table among national dis­cus­sions that impacted lives. Heck, we were pre­serv­ing free­dom, the foun­da­tion of our country's beliefs. Design was Important. This was excit­ing. I was Inspired. National did what I respected most: it turned con­ven­tion upside down. Growth came about and respect fol­lowed. Our chap­ter and our pro­fes­sion has ben­e­fited greatly. (Apple didn't hurt us much either.) Many enti­ties cov­erged to show peo­ple the power of design and design think­ing — how it trans­forms behav­ior and shapes society.
To me, AIGA offers a safe haven for the non-followers, the anti-joiners and the "does it have to be a light bulb?" peo­ple. The guer­rilla crafter. The mas­ter of Legos. 23,000 of us nation­wide. We are all very dif­fer­ent from each other, but form a group that "gets" it. Gets me. You design icons in the shower. Yep. Go for the pricier option because the color is so good. Uh huh. Know the key­board short cut for "go to page _". (That one is the same in InDesign as it was in Quark.) Have the coolest lap­top bag at the client meet­ing. Of course. Geek out over apps that play thun­der­storm sounds, com­plete with light­ing flashes (optional). Naturally. Date via an app that only works on an iPhone. No judg­ment.
All of a sud­den, it was feel­ing good to belong.
Sure, join­ing and see­ing a speaker or two is one thing. I'd even vol­un­teered some designs over the years for events. But how did I end up not only back on the board but as leader of the mis­fits? Some say I was Syriac'd*. But the real rea­son is because it was time to step up. After 19 years of mem­ber­ship and a few years on the board early on, I wanted back in. All in. Because I believe in karma … my karma is PMS 610 (I checked). What you put forth is what you gain back. Push me, pull you. Celebrating 15 years of EnZed Design on Leap Day last year, I felt it was time to refresh and renew my pas­sion for design. And then, by some sort of divine design, this oppor­tu­nity came along.
I encour­age you to fol­low my lead. The new mem­ber­ship lev­els ($50, $150, $250) make AIGA acces­si­ble to all design­ers — from stu­dent to sea­soned pro — and for any­one who val­ues design too. With 500+ Colorado mem­bers, 30+ local events per year, and dynamic national con­fer­ences and online resources, you'll be in good com­pany. Good design com­pany. If you're still not up for fol­low­ing the herd, lead it. Volunteer to be a Chair or run a spe­cial pro­gram, or just come out once in a while between life and dead­lines to learn some­thing new or share more than a post. Join for the benes and the beers. Pick your level and get involved. In ten­nis, even if a ball is 99% out, it's still in.
I'm a designer and an AIGA mem­ber because I'm an indi­vid­ual who ques­tions the norm and plays well with oth­ers. AIGA fits me per­fectly. Or mis­fits me splendidly.
I drank the Kool-Aid and I'm OK with it.
—Helen Young
For an in-depth look at the future direc­tion of AIGA and how you can con­tribute to the dis­cus­sion, read this AIGA Insight.
*The act of Elysia Syriac (President Emeritus) covertly on-boarding part­ners to help per­suade a reluc­tant indi­vid­ual to make the choice that ben­e­fits the col­lec­tive … and ulti­mately him/herself as well. #syr­i­acd